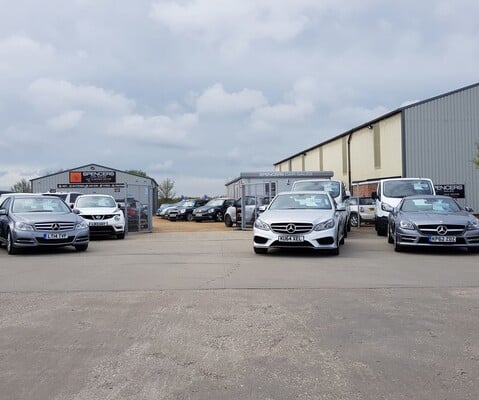 Selling your existing set of wheels yourself can be stressful, and we can understand why you're reluctant to go down the private route. At Spencers Car Sales, we make it simple to sell your car at our dealership in Norwich - and you can get started online!
Why sell your car with Spencers Car Sales?
Our team take the same approach with buying cars as we do with selling them; honesty, transparency, and a hassle-free process. We offer an alternative to selling privately that removes the inconvenience, wasted time and stress associated with it.
Our years of experience mean that we've got a keen eye for cars, and will take into consideration the condition, mileage and service history of your car when we provide you with your no-obligation quote, ensuring that every price we give is fair.
Sell your car quickly
The easiest way to get the process of your car sale underway is to enter your details into our handy online form above for a free guide valuation, where we use the information you provide to generate a price that we're likely to pay. Then you can start to get excited for the sale of your vehicle.
Please note that all valuations supplied are subject to terms and conditions, and Spencers Car Sales has the right to decline any valuation given or implied of such vehicles if they are not as described. If there are any discrepancies between your car and the details you have supplied to us, or, if we discover something unknown to us, we may have to change our quote.
Have a chat with us
If you have any questions regarding your valuation, or wish to speak to a member of our team, feel free to contact us on 01603 266000 and we'll be happy to help.


Our simple process
Step 1

Firstly input your registration and mileage into our valuation tool and our system auto generates a valuation for your car.

Step 2

The valuation will then be sent to our team of experts who will look to see if we wish to purchase the vehicle via a series of further online checks. We may call you to find out some more information about the car such as service history and overall condition.

Step 3

Once our team are happy with your vehicle we contact you to arrange a physical appraisal of the car and a test drive to ensure it is in good condition , has good service history and drives as it should. Once the team are happy with the car at this point, we purchase the car from you paying you immediately via BACS whilst you wait!
Disclaimer
Please note, cars must be in the registered keepers name for at least 6 months. We clear vehicle finance and any equity due will be paid directly to you. If you finance settlement exceeds the value of the vehicle, you will need to pay us the difference in order to clear it for you. Prices are given subject to a full inspection and test drive and may differ depending on vehicle condition.
Valuation
What is the process once I have my valuation? Simply give us a call on 01603 266000 or email
[email protected]
to arrange your appointment with a member of our team. We will then appraise and test drive your vehicle and once we are happy with your car we will pay you for it. The process usually takes around 30-40 minutes and the money is transferred immediately with no fees. 1. This is an estimate only and is valid for 7 days 2. No document charges or bank charges 3. Free collection within a 20-mile radius subject to onsite viewing and appraisal first 4. No hidden charges 5. Valuations are given subject to an inspection and test drive 6. V5 must have been in the seller's name for a minimum of 3 months 7. Estimates can be subject to change 8. Your money will be paid directly to you via a secure bank transfer If you would like to sell your car to us, have any questions regarding your valuation or wish to speak to a member of our team, please contact us on 01603 266000 option 1 or email
[email protected]
.