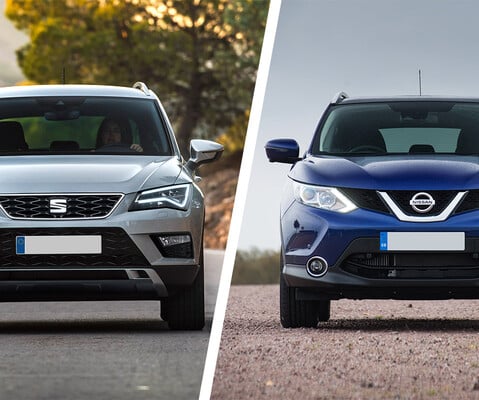 SEAT vs Nissan, which is best for me?
When considering used car options, two prominent contenders in the market are SEAT and Nissan. Both brands have built a reputation for producing reliable and innovative vehicles that cater to a wide range of drivers' needs. Let's delve into a comparative analysis of SEAT and Nissan used cars, highlighting key aspects that buyers often prioritise.
Design and Variety:

SEAT is known for its sleek and sporty designs that exude a youthful and dynamic appeal. Models like the SEAT Leon and SEAT Ibiza boast eye-catching aesthetics that attract drivers seeking a modern and stylish look. On the other hand, Nissan offers a diverse lineup, ranging from the compact Nissan Micra to the versatile Nissan Qashqai. The choice between SEAT and Nissan often comes down to individual preferences for design aesthetics and body styles.
Performance and Efficiency:
SEAT's emphasis on sportiness extends to its performance-driven approach. Many SEAT models offer peppy engines and responsive handling, making them ideal for drivers who enjoy a more spirited driving experience. Nissan, meanwhile, is recognised for its commitment to fuel efficiency and reliability. Models like the Nissan Sentra and Nissan Altima prioritise practicality and smooth driving, making them suitable for daily commutes and long journeys.
Technology and Features:
Both SEAT and Nissan incorporate advanced technology into their vehicles. SEAT's infotainment systems are known for their user-friendly interfaces and integration of smartphone connectivity. Nissan, on the other hand, offers features like ProPILOT Assist, a semi-autonomous driving system, and NissanConnect, which provides access to various apps and services. Buyers seeking cutting-edge technology will find appealing options in both brands' used car offerings.
Safety and Reliability:
Safety is a paramount concern for any used car buyer. SEAT's commitment to safety is evident in its incorporation of modern driver-assistance features and high safety ratings for many of its models. Nissan's reputation for reliability is well-established, with models like the Nissan Rogue and Nissan Murano consistently receiving top marks in reliability assessments. Buyers can feel confident that both SEAT and Nissan prioritise safety and dependability.
Price and Value:
SEAT often offers a more budget-friendly option compared to some higher-priced competitors, making it an attractive choice for buyers seeking affordability without compromising quality. Nissan offers a wide range of price points, catering to various budgets. Both brands offer used cars that provide good value for the features and quality they deliver.
In conclusion, choosing between SEAT and Nissan for a used car comes down to individual preferences and priorities. SEAT appeals to those who value sporty design and performance, while Nissan emphasises reliability, efficiency, and advanced features. Buyers should consider factors like design, driving experience, technology, safety, and budget to make an informed decision that aligns with their needs and lifestyle. Regardless of the choice, both SEAT and Nissan have a diverse array of used cars that cater to a spectrum of driving preferences.
Browse our range of used cars here.